Masculine tattooed stud Michael Roman is a cool, laid back guy with an incredible body and sensitive feet. They turn out to be quite ticklish, following some testing. Michael loves strange colored socks and likes to show his feet off in them…
Michael is the guy the foot master loves having around because he is so sexy and he has never done it before. Michael gets tied to the MFF tickle chair. He is quite interested in finding out what tickle torture was all about.
Michael's read and black socks are a nice treat and they smell good. His bare feet smell even better though. Michael turned out to have many sensitive spots and actually likes being tickled. Michael's big laughter says it all.
Watch The Full Video – Inked Muscle Stud Michael Roman Tickled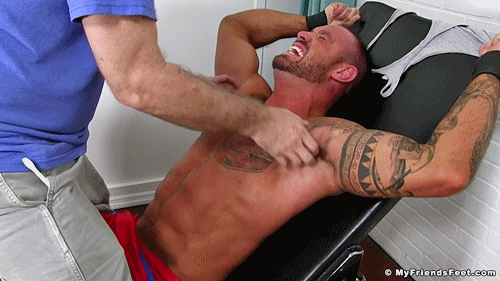 Watch The Full Video – Inked Muscle Stud Michael Roman Tickled