Handsome tatttoed jock Hoytt Walker is in town for a few days for a musical festival when his plans for a place to stay fall through. No worries though, since Uncle Dev has a place to stay for Hoytt…
Of course, Hoytt has to offer up his size 10 feet for some worshipping to be able to stay. He thinks that is weird, especially considering his feet are sweaty and stinky from walking around in the Florida heat all day.
It's no problem for Dev though. He sniffs Hoytt's rank boots and socks before he gets right down to business on Hoytt's bare feet with his mouth and tongue. Hoytt loves the foot worshipping he receives, beating off and cumming as proof of it.
Watch The Full Video – Uncle Dev Foot Worships Hoytt Walker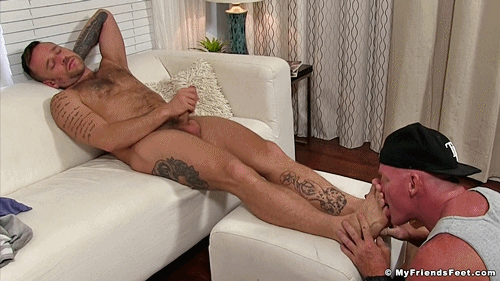 Watch The Full Video – Uncle Dev Foot Worships Hoytt Walker